Thanks to today's advances in orthodontic technology, Akad Orthodontics can provide our patients with more options when it comes to wearing braces than ever before. While regular metal braces are still widely used, clear braces are becoming increasingly popular along with removable appliances that can be used for mild cases of misaligned teeth.
Please see below or ask us to learn more about the types of braces we offer at our office. You need to speak with your orthodontist to determine which appliance is right for you.
Traditional Braces
Traditional metal braces are the most common type of braces and are smaller and more comfortable today than ever before. Made of high-grade stainless steel, metal braces straighten your teeth using metal brackets and archwires.  Instead of braces that require  elastic or metal ties that can be very hard to clean, Akad Orthodontics uses the self-ligating Damon braces, that still gives you the option of colored elastics (rubber bands) for a more unique and colorful smile.
Clear Braces
Ceramic clear brace are the clearest form of brackets that match the color of your teeth. Popular with adults.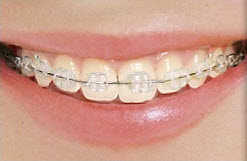 Damon Braces
Damon brackets are small, comfortable brackets that do not require elastic ligatures. This system produces less force on the teeth, allowing them to move more comfortably and quickly. Many patients find them easier to clean because they do not require elastic ligatures to keep the wires in place.
Invisalign
Invisalign uses a system of clear trays that are custom fitted to the arch to move the teeth. Approximately every two to three weeks, new trays are inserted to continue tooth movement until teeth are aligned. Great for clients who do not want regular braces and who have mild to moderate orthodontic problems.
Lingual Braces
These brackets are similar to conventional brackets with the exception that they are placed behind the teeth and are completely invisible when you smile. Treatment time is usually longer with lingual braces than conventional and Damon brackets.